This course is now closed. You may enroll in the Level 1 Standard Course until Jan. 31st. 2017.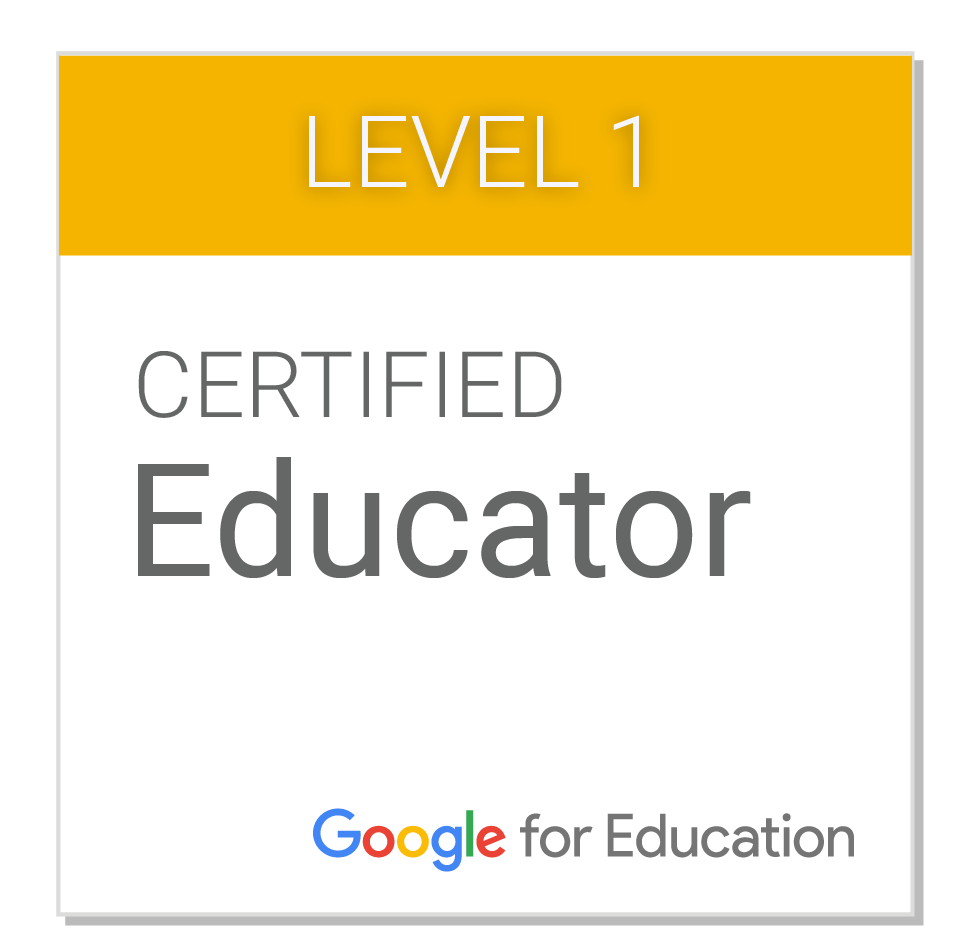 Ready to Become a Google Certified Educator?

I can help you become a Google Certified Educator. Becoming Google certified was a game-changer for my professional learning and my career. I want to help more teachers reach their goal of becoming Google Certified! My goal is to empower teachers to transform the learning in their classrooms and become digital leaders.
The Google Certified Educator Academies
Do you feel overwhelmed by the task? I have the e-course you have been waiting for! Consider this your online, self-paced, Google Certified Educator Boot Camp! I have taken the content, concepts, and skills needed to pass the Google Certified Educator exams and created a video-based course that includes EVERYTHING you need to know, including:
40+ Video Lessons (More than 11 hours of learning with me, Kasey Bell!)
Private Google+ Community and Study Group
20+ PDF Downloads
Lesson Checks
Testing Tips
VIP Bonuses
and much more!
---
10 Reasons to Become a Google Certified Educator (video 1)
---
How to Become a Google Certified Educator (video 2)
---
The Google Certified Educator Academy - Level 1 (video 3)
---
Who is this course for?
The Google Certified Educator program was designed for the classroom teacher but is open for any educator to pursue.
Why take an online course?
Finding time to attend a Google Certification Boot Camp can be a challenge, and if you don't have the support of your administrators it can be almost impossible to get time away from the classroom to pursue your dream of becoming a Google Education Certified Educator.
Even if you do get to attend a face-to-face boot camp, often times it is overwhelming and too much too fast. You probably had no idea what you signed up for!
This is why I decided to develop an online, self-paced course to help educators reach their goals and take their Google skills to the next level on their own time and at their own pace!
*Please note: This course does not include the cost of the exam ($10), which must be purchased from Google. Shake Up Learning does not certify you. Passing this exam is the only way to receive a certification from Google.
VIP BONUSES
The VIP version of this course includes some very special bonuses!
The Google Certified Educator Challenges: A set of challenges designed to challenge you with hands-on tasks to prepare you for the exam. (This is best way to study!!)
My eBook: The Teacher's Guide to Google Classroom
My eBook: The Student's Guide to Google Classroom
My eBook: The Google Cheat Sheets
Curated and Integrated Resources from Shake Up Learning and The Google Teacher Tribe Podcast: I have tons of resources, blog posts, and podcasts with additional tips, tricks, and lesson ideas. These are all linked and integrated into the applicable lessons. Everything in one place!
Frequently Asked Questions
1. What is the deadline to Join the Google Certified Educator Academy (Level 1)?
There are two versions of this course: VIP and Standard. The VIP version is only available for a limited time! VIP is Opening for Limited Enrollment on June 19, 2017, and will end at midnight CST on July 4, 2017. The standard version will be available indefinitely.
2. I'm In! When will I get access to the course?
Immediately! Once the course launches on June 19, 2017, you can enroll and move one step close to becoming a Google Certified Educator!
3. How long will I have access to the course?
At a minimum, you will have access to all the videos, tutorials, content, downloads, tips and tricks for ONE FULL YEAR! (Face-to-Face training cannot offer that!)
4. Do you take school purchase orders?
YES! Please email me at Kasey[at]ShakeUpLearning.com to let me know exactly what you would like to purchase and what you need to generate a purchase order.
5. Do you offer bulk discounts?
YES! Want to get a whole group of teachers in your school or district certified? There is a bulk discount of 25% for groups of 10 or more. Email me at Kasey[at]ShakeUpLearning.com if you are interested.
5. What is the difference between the VIP course and the Standard Course?
Look at the comparison below. The VIP course contains everything that is included in the standard course PLUS some really cool resources and bonuses.
---
Testimonials! Here's what other teachers are saying:
Below are just a few testimonials from the HUNDREDS of students who have taken the course and become Google Certified Educators!
"I am completing this course while trying to work around my children's busy summer schedules. I like that fact that it is self-paced, and I can access it at anytime. I also like how I can easily skip to certain sections. Great class! I really think this will help me as a teacher!"
- Amy Kennedy
"I have been wanting to become a Google Certified Educator for a while. I found this course, the contents and the organization of it all to be just what I needed to begin this learning process. The format is versatile, with features to help the participant personalize their own learning path and pace. I am loving this course!"
- Lesley Garcia
"This course is both informative and interesting. I like it better than the Fundamentals training that Google offers because it feels like I am learning from a real teacher who is sitting down with me and tutoring me. Kasey draws from her own experiences with students that gives me personal narratives to connect with the more how-to, technical information about Google products.
This isn't just about passing the GCE1 test! The VIP Bonus Material is like confetti that Kasey throws to expose teachers to the vast array of apps and "tricks" that I can use to make me a better teacher in an increasingly digital environment. No time to research the ocean of online resources? Let Kasey pass on all her hard work and learning to you!"
- Sue Eckert
"Just passed my Level 1 exam!!! So stoked! Now on to Level 2. Thanks so much Kasey, you made things so much easier!"
- Kim Armor
"I used Kasey's course to review all the concepts and give me confidence to rock that test! +Kasey Bell, I LOVE how you present everything with such clarity and excitement."
- Stephanie Smith
"Thank you +Kasey Bell for a wonderful course; I have learned so much. I am ready to put all my learnings into practice."
- Katharine Grudt
"Thanks +Kasey Bell! I passed and am thank for your videos. I completed the Google training this past spring and it was helpful. Kasey's videos were much easier to follow and well organized. TIP: If I was familiar with her lesson I would watch the video at a faster speed then slow down for new or unfamiliar information. Hope this helps. Good luck everyone!"
- Donna Wood
"Woo-hoo! Just finished my test and passed! Had time to go over some of the questions. It was grueling. This class definitely prepared me. Thank you +Kasey Bell!"
- Joan May
"I just wanted to chime in here as another totally satisfied customer. I just finished (and passed) the exam with about 90 minutes to spare.
To prepare, I went through all of your lessons and lesson checks + the VIP challenges and then I went through the .pdf lesson checks just one more time. I didn't go through the Google Training at all. However, I had started to go through those three years ago and found it tedious and time-consuming so I just never finished. You have organised the material in a user-friendly (and engaging) way.
I was so nervous, but your course totally prepared me! I look forward to the Level 2 course!
Again, thank you so much! You have helped me feel more confident as I start a new role at my school as the High School Technology Integration Coach."
- Alyssa Passey Ballard
Visit GoogleCertifiedEducator.com to learn more.