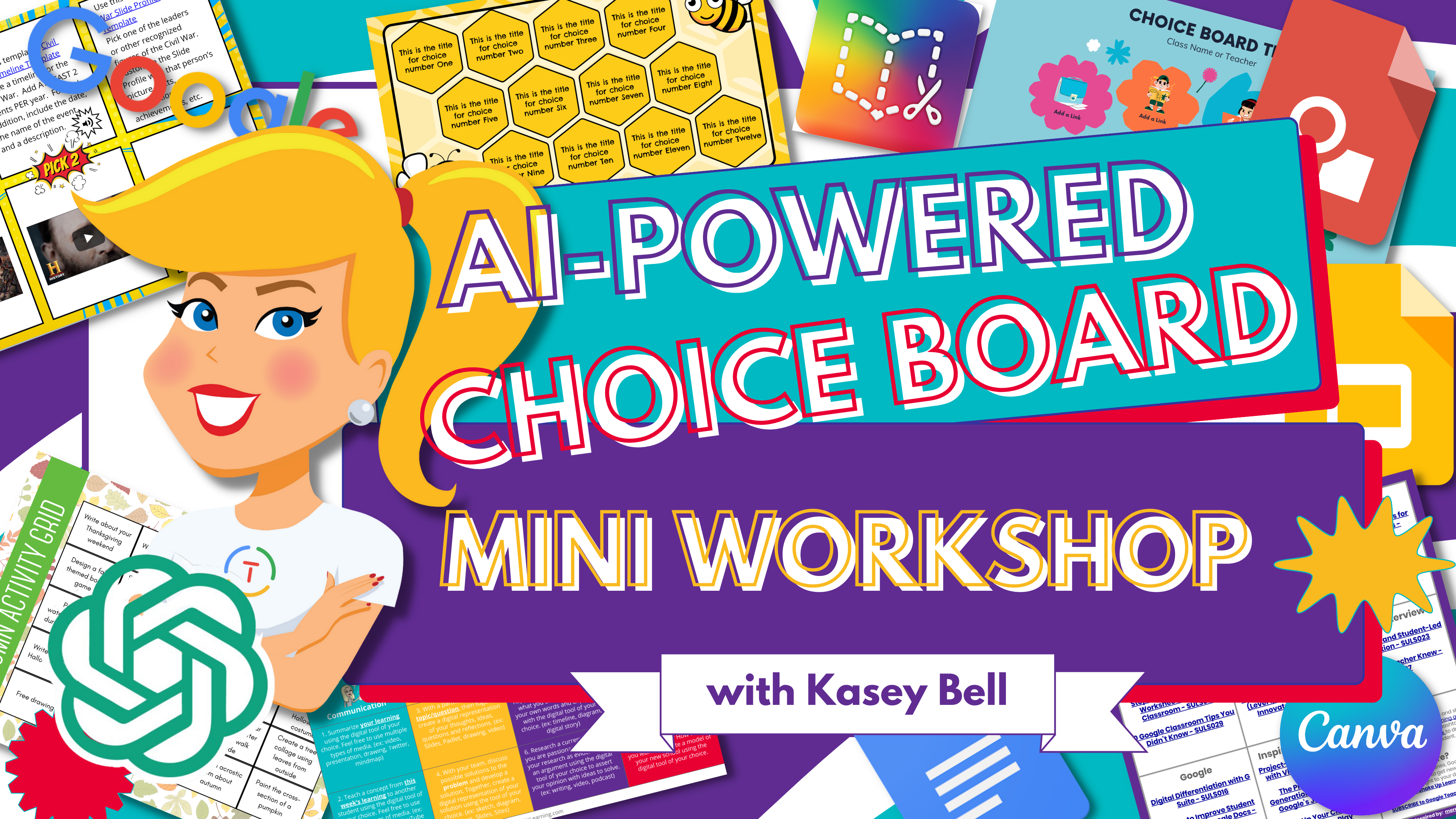 🚀 Level Up Your Choice Boards!

Empower and engage your students with student choice and interactive choice boards. Choice boards can help teachers put students at the center of learning, differentiate, and teach valuable skills. In this mini workshop (1 hour), we will explore ways to use AI Tools like Chat GPT, Canva Magic Write, and more to create engaging choice boards aligned to your learning goals. Save time, energy, and frustration!

➡️ PRE-ORDERS ⬅️

If you pre-ordered this workshop and received an email that your access has expired. This was a glitch!
Reach out here and we will make sure you have access to the mini-workshop.

AI-Powered Choice Boards
Learn how to use your standards and learning goals to create POWERFUL choice boards for student-centered learning in the classroom.
Walk away with templates, AI prompts, and tons of tips and tools!
This mini workshop is pre-recorded and available on-demand.


🎯 Why Choose Choice Boards?
Are you ready to put your students at the center of their learning journey? Choice boards offer a revolutionary way to differentiate instruction, promote student autonomy, and foster essential skills.

💡 The Power of AI Tools
Let AI do the heavy lifting!
Unlock the full potential of choice boards by harnessing the power of AI Tools like Chat GPT and Canva Magic Write. In this 1-hour mini workshop, we will guide you through leveraging AI to create captivating and goal-aligned choice boards, saving you precious time, energy, and frustration.

🔒 Access for ALL-ACCESS PASS users
ALL-ACCESS PASS this mini-workshop is included with the pass!

📚 On-Demand Workshop with Kasey Bell
Creating effective and engaging choice boards that are also aligned to your learning goals can be very time-consuming. But fear not, let AI do the heavy lifting!
Learn how to use your standards and learning goals to create POWERFUL choice boards for student-centered learning in the classroom. Walk away with templates, AI prompts, and tons of tips and tools!
This mini workshop is pre-recorded and available on-demand.
📚 What You Get:
✔ Self-paced
✔ Video workshop
✔ Downloads
✔ Choice Board Templates
✔ AI Prompts
✔ 1-Hour Credit Certificate
✔ Supporting Resources
👨‍🏫 Large Group? Request a Quote
Bring the power of AI-Powered Choice Board Mini Workshop to your entire team or school! Request a quote for large group access.

💳 Request to Pay with a School Purchase Order Here
We accept school purchase orders for your convenience.
⏳ Don't miss out on this incredible opportunity to revolutionize your teaching and create unforgettable learning experiences for your students.

What Teachers Are Saying...
"Thank you so much for putting in the time to create prompts and instruction that is exactly what I was looking for to help me with the upcoming school year. An hour well spent!"
"I found it to be very helpful, I am just beginning to explore ChatGTP ,so the mega prompts and resources you gave are going to make it easier to navigate."
"Eye-opening concept! Thank you for sharing your knowledge on this topic. I am excited to see how AI shapes the future." 

Your Instructor: Kasey Bell
Kasey Bell is a former middle school teacher turned award-winning digital learning coach, international speaker, author, blogger, and podcaster with a Texas-sized passion for technology and learning. 
She is part sparkling smile, part witty personality and a whole heap of passion as big as a Texas--go big or go home, y'all! She is a disruptor of the boring. An engaging, innovative, from the heart sharer who inspires educators while transforming their teaching with original, timely, and use-tomorrow ideas for student choice, differentiation, and technology integration. 
Whether it is learning from home through online courses, professional development, conference workshops, or as a keynote speaker Kasey is a relentless innovator of ideas and a devoted transformer of classrooms and teaching. 
Through teacher empowering publications and award-winning educational resources at ShakeUpLearning.com, learner-driven workshops and presentations, and hosting two weekly podcasts, Kasey proves why we should never settle for the boring when it comes to bringing out the very best in our students, and we should always strive to Shake Up Learning!
Host of The Shake Up Learning Show Podcast
Author of Blended Learning with Google, Named one of the Best New Professional Learning Books of 2021," and "Best New Online Learning Books to Read in 2021," by Book Authority.
Author of Google A to Z
Author of Shake Up Learning: Practical Ideas to Move Learning from Static to Dynamic, Named one of the "Best Learning Books of All Time," by Book Authority
Google Certified Innovator
Google Certified Trainer
ISTE Featured Voice
Digital Innovation in Learning Award Winner in "Sharing is Caring"
One of 20 TrustED Educational Thought Leaders
Award-winning blogger and social media influencer
The award-winning Shake Up Learning website provides teachers with practical resources for using technology in the K12 classroom, including using Google Classroom, Google for Education, and other Google tools and many additional blended learning resources. We provide free technology tips and tricks, free downloads and templates, in-depth online courses, books, lesson plans, lesson ideas, cheat sheets, blog publications, and podcasts.
Kasey Bell, author, Google Certified Trainer, and Innovator, and the entire Shake Up Learning team provide in-depth, high-quality professional learning for K-12 educators worldwide through our Google Training for Schools programs, online courses, and webinars. Through face-to-face and virtual presentations, keynotes, and workshops, Shake Up Learning is committed to providing the best professional learning for K12 educators.


Frequently Asked Questions
When does the course start and finish?
You will have access for 30 days! It is a completely self-paced online course - you decide when you start and when you finish.
What is the deadline to join the course?
There is no deadline. This course will be open for enrollment indefinitely.
Can I get professional learning credit for this course?
Yes! You can receive a certificate for 1-hour of professional learning credit from Shake Up Learning. However, every state and school has different criteria, and this may not meet the needs your job requires. This is a standard certificate without any affiliations.
Do you take purchase orders from schools and organizations?
Yes! Use the form on this page to start. the process